Posting date:
24 February 2022


The automotive industry is entering a new era that is filled with innovation and promising change. A rapidly developing world coupled with increased globalization has uncovered previously unconsidered needs and desires for automotive consumers.
As the industry's digital revolution continues to accelerate, a world of opportunities is opening as the whole landscape of the automotive industry changes. Here at TRS Staffing, we are always looking to the future and take pride in identifying any automotive industry trends on the horizon. Here, we discuss what the future of the automotive industry holds.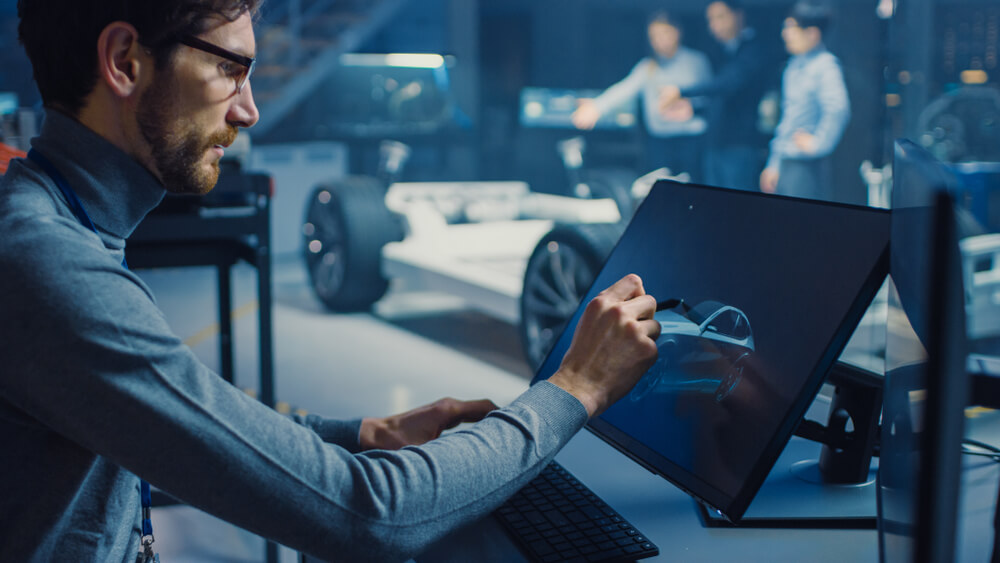 Autonomous vehicles
Self-driving or autonomous vehicles minimize the need for human drivers and look poised to transform everyday transportation. Plans for autonomous vehicles have been in the works for a number of years and leading firms have hopes that they can reduce downtime, cut traffic and make transportation substantially safer. AVs are equipped with innovative recognition technologies, that can identify objects on the road and effectively avoid collisions. Researchers believe that these technologies can drastically reduce road accidents caused by human fatigue or negligence.
Whilst some automotive firms have been exploring the capabilities of self-driving cars for the past few years, we're still some time away from wider usage. However, we are beginning to see the first steps in this ground-breaking project with vehicles displaying autonomous capabilities, such as hands-free parking.
Increased production of Electric Vehicles
Electric vehicles (EVs) are not a particularly new trend, but they are quickly becoming a popular choice of car across the globe. Global electric vehicle sales hit record highs in 2021 and the United States has set a goal of a 50% market share for EVs by 2030. The acceleration of the electric and hybrid vehicle market is driven by the pressing needs to meet global sustainability targets.
The major benefit of electric cars is the contribution that they can make towards improving air quality in our towns and cities and reducing the use of fossil fuels. Entirely electric cars produce no carbon dioxide emissions when driving, considerably reducing air pollution. With climate fears rising and the US government pushing forward with their 2030 Net-Zero plans, electric cars will become more affordable and widespread in the near future.
Connected cars
Throughout every industry, technology is evolving at a rapid pace, and the internet has changed the way people communicate and go about their daily lives. The automotive industry is no exception as connected cars become the latest trend that is set to spread throughout the globe.
A connected car is a vehicle that has its own connection to the internet that allows the car to share internet access and data with other devices inside and outside the car. With the demand for greater connectivity set to soar, 5G-enabled connected cars are earmarked to become the future of the automotive industry. Benefits of connected cars include:
Access to a variety of entertainment services on the go.
High-tech navigation systems through third-party apps.
Advanced safety features to reduce the chances of an accident and preserve your health in the case of a crash.
Enhanced security features will help you to keep track of your vehicle, even when you're not driving the vehicle.
The global connected car market is projected to reach USD 56.3 billion by 2026 and is set to soar as it redefines the transport industry as we know it.
Sustainable manufacturing operations
With the growing importance of addressing environmental issues, sustainability is a hot topic across all industries, particularly in the automotive industry. In order to improve sustainability, vehicle manufacturing firms must install operations that incorporate weight reductions, recycled material, innovative sustainable materials, and new production methods.
Current trends such as zero-emissions vehicles and carbon-neutral manufacturing demonstrate the growing significance of sustainability in the automotive industry and sustainability has improved throughout the industry over the past decade. As we begin to lean towards a net-zero world, sustainable manufacturing operations are set to become a key feature in the future of the automotive industry.
Are you looking for your next automotive job?

At TRS Staffing, we are an automotive staffing agency with an excellent team of consultants that have a deep knowledge of the industry. We specialize in automotive recruitment, and our expert consultants recruit professionals both on a permanent and contingency basis. We have an outstanding track record of supplying employers with the best candidates. If you're looking for your next automotive job, apply today.
If you would like to find out more about our services and how we can assist your automotive career, contact us today for more information.